Grand Oasis Cancun Mexico All Inclusive
by Diana Pierson
(Mosinee, WI USA)
Where was the resort you stayed in?
Cancun, Mexico
How do you rate your stay - from 1 to 5 stars?
4 stars
What were your favorite things about the resort?
I enjoyed every part of it, the bartenders remembered us, the food was good, plenty of restaurants to go to and eat at,
so many things were with in walking distance from the resort
.
What were your least favorite things about the resort?
The only thing i found not the greatest, well i can't think of much actually, i found it super pleasant!
What are your best tips for future travelers to the hotel and/or destination?
Oh wait there is 1 thing, watch out for people dressed like the employess, asking if you want a free breakfast, they are promoting time shares! DON'T fall for it we did and it took 3-4 hours of our day, it sounds great, but unless you travel every year! and have the money, it's not worth it!
Who would you recommend this all inclusive resort too?
(ex. families, couples, groups, etc.)
Everyone, it's a great all inclusive vacation for families, couples, anyone wanting to have a great time!
Editor's Notes: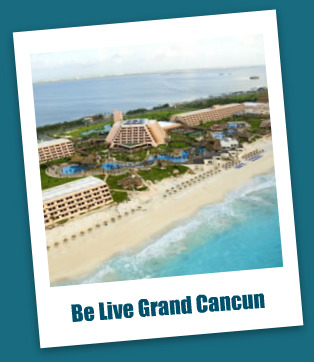 Grand Oasis Cancun (now called Be Live Cancun) gets a 62% approval rating from previous guests to read more detailed reviews and check prices for the Grand Oasis Resort in Cancun check out
TripAdvisor Reviews for the Grand Oasis
.
Not sure Cancun is for you - check out our
Cancun all inclusive resorts
page to help you decide!