Best Beach Inclusive Vacation PHOTO CONTEST
Submit Your Beach Inclusive Vacation Photos for Your Chance to
Win a $100 Visa Gift Card!
1 in every 100 accepted submissions entered in our Best Beach Inclusive Vacation Photo Contest will win a $100 gift card!
Simply enter your original photo series (at least 2 photographs) of an all inclusive resort and it could be you!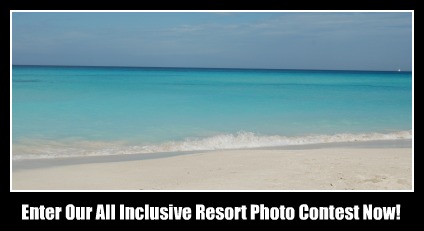 Submit Your Beach Inclusive Vacation Photos and Win!
Enter your All Inclusive Resort photos and you could win a $100 Visa Gift Card!
To be valid entries - submisions must include 2 or more photos. Winners will be choosen based on the quality and number of photos, and helpfullness of the photos to future travelers.
Don't forget your name and email address so we can contact you if you win!
In addition to your chance of winning, your unbiased resort reviews will help other visitors to our site plan their next dream vacation!
Other Best Beach Inclusive Photo Contest Reviews
Click below to see photos of other All Inclusive Resorts ...

Not ready to enter the contest yet or need to be at a different computer to access your photos? Use the form below to have a reminder sent:
Tips for Creating Winning Entries in our Beach Inclusive Vacation Photo Contest:
Winners of the contest will be chosen based on the following criteria:
quality and number of the photos of the beach vacation resort photos,
how useful the photos are to future travellers, and
social media response (facebook likes, tweets, etc.)

Best tips for creating a winning entry:
Attach more pictures - up to four can be included in an entry. A good photo series shows future travelers what the resort and area actually looks like - not just in a glossy brochure!


Add details! Tell us about your photos:
what's the name of the resort?
is the picture of the best restaurant on your beach inclusive vacation?
who did you travel with and do you recommend the resort?
Please Read:
By entering any Best-All-Inclusive-Vacation-Packages.com contests, you agree to be bound by the contest rules and regulations.
---
Good luck! Please feel free to entry as many ORIGINAL all inclusive resort photo submissions as you like!
---