Sandals Beach Resorts - Whitehouse Jamaica
by Joe
(Mysitc Island, New Jersey, USA)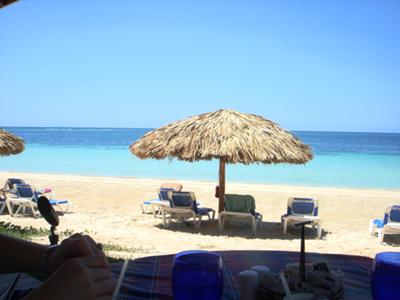 Sandals Whitehouse - Lunch the day we arrived
The Sandals Beach Resort was Sandals Whitehouse, Jamaica
Our stay was 5+ stars!
What were your favorite things about the resort?
The resort truly caters to the guest. Service is without a doubt number one! The property is extremely well maintained.
What were your least favorite things about Sandals Beach Resorts?
Having to leave. Could have stayed for longer then a week
What are your best tips for future travelers to Sandals Whitehouse Jamaica?
The best place for relaxation. The beach is unbelievable beautiful, sunset is breathtaking.
Who would you recommend this all inclusive resort too?
Couples!
Editor's Notes
Sandals Whitehouse Jamaica gets rave reviews and an 87% recommendation rate from past travelers!
Travelers Loved


Intimate feel of the resort


Gorgeous Caribbean beach that's very private


Stunning setting of the resort


Great drinks and funny bartenders!


Free all inclusive wedding

Every room has an ocean view but the higher rooms have a spectacular view


Watersports are included in your all inclusive package price


Some Travelers Didn't Love


What some said was a lengthy drive from the airport (90 minutes)


Some felt the service wasn't excellent and that it was very slow in the restaurants


The food was rated as fine or good by many travelers but not excellent


The resort is quite quiet with a pretty slow nightlife


Tips for Staying at Sandals Whitehouse Jamaica


Stay in the Italian Village to be close to the evening entertainment and restaurants


Choose the French Village if you want to be away from the action


Pick the Dutch Village for the middle ground


Ask for a room on a higher floor for a better ocean view


Most travelers felt the extra expense of the concierge service rooms was worth it but there was mixed reviews about the butler service


The most recommended drink (alcoholic) was the "Jamaican Smile"


If you book a cheap package you may be offered a discount on the room upgrade closer to your departure date


You can read more
reviews of Sandals Whitehouse Jamaica at TripAdvisor.
For more romantic all inclusive vacation packages check out our
Romantic Travel Destinations
page.