Sandals Royal Bahamian Destination Wedding
by Callie Sullivan
(Beaverdam, VA)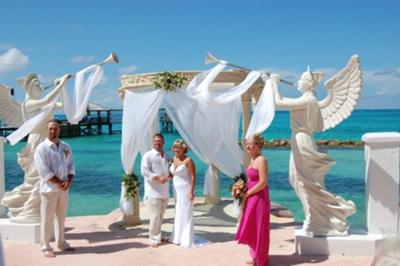 Our wedding at Sandals Royal Bahamian Resort
Sandals Royal Bahamian all inclusive is in Nassau, Bahamas
Our stay at Sandals in the Bahamas was 5 star!
What were your favorite things about Sandals Royal Bahamian Resort?
Being it's all inclusive and the food is outstanding and so is the staff!
What were your least favorite things about this Sandals Bahamas resort?
Nothing!
What are your best tips for future travelers to Sandals Nassau Bahamas?
If you like to drink and eat the all inclusive results are the best way to go!
Who would you recommend this all inclusive Bahamas resort too?
Couples. We got married at the resort in 2008 and it was absolutely beautiful!
Editor's Notes:
Thanks for the beautiful photo of your Sandals Royal Bahamian destination wedding and congratulations!
This Sandals Resort is in Nassau Bahamas and has a ton of nighlife options and a gorgeous beach on a private island!
80% of travel reviews recommend the Royal Bahamian Sandals resort for a romantic holiday, adult group vacation, honeymoons, babymoons, and romantic destination weddings. It makes our Top 10 All Inclusive Resorts - Bahamas list at number four!
The cheapest way to book is through the Sandals website - right now you can
Save up to 65% plus 1 Night Free and a $100 Red Lane Spa credit
at this link.
You can also read more reviews of the Royal Bahamian Resort at
TripAdvisor
.