A Week at The Royal in Cancun Mexico
by Kelly
(Dallas, TX)
Where was the resort you stayed in?
We stayed at The Royal in Cancun Mexico. This was our second visit to the Royal in a year. The Resort is beautiful and we really feel like VIPs when we're there. It is right in the middle of the Hotel Zone so it isn't a long trip from the airport and we can catch a bus and head out to just about anywhere in Cancun.
How do you rate your stay - from 1 to 5 stars?
4.5 stars
What were your favorite things about the resort?
Our favorite things about the resort are: it is
adults only
, although this time there were several groups of 20 year olds that seemed to "take over" the hotel while we were there. We are a couple in our mid 40s and like a more relaxed environment.
The Rooms and view are incredible and the service is top notch! The food is beautiful and tasty with a pretty good variety. The drinks are all top shelf and there are bottle butlers in the room instead of the little mini bar bottles. Room service is 24 hours and included and very good. The Hotel staff is what really makes this our favorite place.
What were your least favorite things about the resort?
It rained the first 2 days of our vacation, not stormed but rained and they didn't open the pool bar which left only the lobby bar open with all the guests hanging out in the lobby. The pool bar is covered and the guests are wet already since they are in the pool.
Also there is only one life guard and around 1 pm everyone has to get out of the water at the beach so he can take lunch. These are small things but with a resort of this quality I think they should have 2 life guards.
What are your best tips for future travelers to the hotel and/or destination?
Do the online check in for the Royal Cancun. You get to pick your room and location, it is the best!
Also, avoid the Real Club, it is a time share and they will try to get you to "take the tour" everytime they see you.
Go across the street and and get the bigger mugs for your drinks. They stay colder and there are less trips to the bar, or for the beach butler.
Pelicanos for breakfast and lunch!
Who would you recommend this all inclusive resort too?
Couples, and adults. Can be very romantic!
Editor's Notes: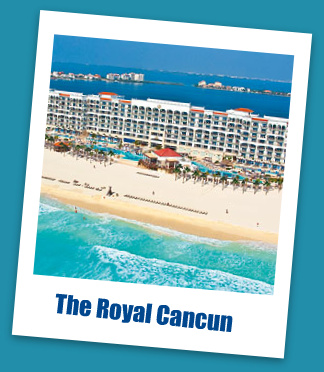 Thanks for your great review Kelly! It was so descriptive I could almost feel the drink in my hand!
You can check out
The Royal Cancun
full review here - it makes our
top 10 Cancun All Inclusive Resorts
list at number 3!