Grand Oasis Hotel Cancun Review
Find YOUR Best Cancun All Inclusive Cancun Vacation Packages
Grand Oasis Hotel Cancun Mexico is a 3 1/2 star ($$$) all inclusive resort now called "Hotel Be Live Grand Cancun All Inclusive". The Grand is a hot party spot attached to the most popular Cancun party resort - Oasis Cancun. This is NOT a family resort!
Grand Oasis Cancun Amenities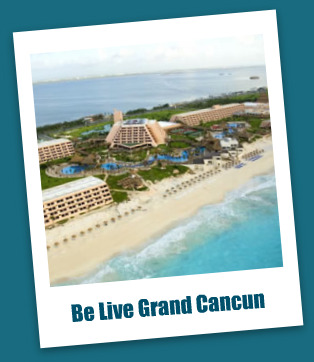 The Grand Oasis Hotel Cancun is distinguished by its pyramid-shaped main building that allows
all guests to have a room with a view
– either of the lagoon or of the ocean.
Grand Oasis Cancun rooms are decorated with a modern Mexican flair and include the standard set of amenities for all inclusive Cancun vacation packages: air conditioning, TV, bathroom with a whirlpool tub, etc.
Guests can also choose from a terrace or a balcony and between two queen-sized beds or one king-sized bed.
Located in Cancun's busy hotel district
, the Grand Oasis Cancun resort is close to the airport and within an easy distance of the shops, clubs, and restaurants of the Cancun strip.
The Grand Oasis Hotel Cancun features
a third of a mile of white sand beach
and
a swimming pool that's over a quarter of a mile long
. The landscaping includes waterfalls and lush gardens.
Grand Oasis Hotel Cancun All Inclusive Vacation Packages Include:
Sports and activities

including shows, disco, tennis, soccer, basketball, gym, and non-motorized water sports.
Love Cancun but find the Grand Oasis Cancun isn't the all inclusive Mexican vacation for you? Check out our Cancun All Inclusive Resorts page for more Cancun hotels.
Grand Oasis Cancun All Inclusive Resorts Reviews
Only 57% of the Grand Oais Hotel Cancun reviewers who had previously been guests of the Grand Oasis Cancun would recommend this resort to others.
The most positive reviews came from younger guests who liked the party atmosphere and proximity to nightlife.
Travelers loved:
First of all, let's talk about what travelers liked.
The

grounds and pool

were generally beautiful, clean, and well-kept.
The

beach

, while just as beautiful, was

too rocky

to suit guests with bare feet.
Many Cancun

spring break partiers

gave this hotel rave reviews for it's close proximity to great party spots.
Travelers disliked:
The rooms were

dated

and in need of some maintenance.
The staff – though usually friendly – were in short supply for the amount of work necessary in running such a huge resort as the Grand Oasis Cancun.
Some repeat quests felt the hotel has been

going downhill

since the change in ownership to the Hotel Be Live Grand Cancun and many more recent reviews were negative.
Tips for Staying at Grand Oasis Hotel Cancun
So, expect it to be raucous and boisterous – around school breaks especially, but at other times as well.
Recommended Cancun things to do include: the Selvatica Canopy Expedition and Adventure tour, Nautilus Diving & Training Center, Cancun With Me Day Tours to see the ruins, and Hummer Jungle Tours.
There is a

dress code

for all indoor restaurants, and several are closed for one day per week. Check to see if your restaurant of choice needs a reservation – many do.
Recommendation:
Many Grand Oasis Hotel Cancun reviews were focused on the quantity and quality of the drinks and nearby nightlife.
People who want to party without spending a lot of cash may like this resort.
Anyone who feels uncomfortable around that behavior – particularly those in search of peace and quiet or a family-friendly atmosphere for their all inclusive Mexican vacation – should definitely check out other Cancun all inclusive resorts before booking here.
---
Feel Grand Oasis Cancun (Hotel Be Live Grand Cancun) isn't the all inclusive Mexican vacation for you or just want to check out

more hotel options

before you choose your best all inclusive Cancun vacation packages?
Please check out our top 10 all inclusive Cancun resorts on our
Cancun Hotel Ratings page for more options.

For more cheap all inclusive vacations, click here.
---