Atlantis Bahamas Vacation Packages … A Luxurious All Inclusive Resort Alternative?
Atlantis Bahamas vacation packages are not all inclusive but Atlantis does offer the option of two different meal plans (one casual and one fine dining). If you are looking for a true Bahamas all inclusive check out Breezes Bahamas all inclusive resort.
Everyone has heard of the ever popular missing Atlantis but it seems that the wondrous city has been recreated here on Paradise Island in the Bahamas with Atlantis Bahamas vacation packages. They offer a one of a kind ocean-themed resort with 5 accommodation choices: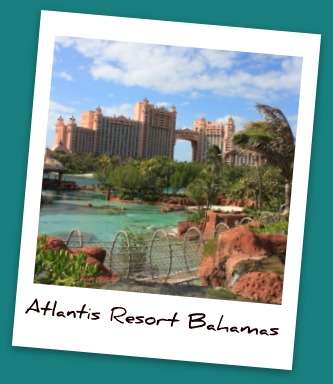 For those that want to be in the heart of everything with a tropical setting then

Coral Towers

is your best bet. A good choice for families looking for a casual environment. It has a teen club, Starbucks, and Atlantis Speedway with remote control cars. It's close to the lagoon pool, and casino.
Others prefer the grand architecture designs and artwork of the

Royal Towers

. Royal Towers is close to the Casino and the Mandara Spa.
If you are looking for all the luxury comforts of home while staying beachside then go with a room at the

Reef Atlantis

. The Reef has studio suites starting at over 500 square feet, ranging up to the penthouse suites at up to 3000 square feet.
If you're traveling with a family you may want to consider the Beach Tower. It has a casual environment and is close to the beach, the river pool, the lazy river and the kids pool.
If you want to stay away from the hustle and bustle of Atlantis life then you will love the

Cove Atlantis

. The Cove Atlantis is set apart from the rest of the accomodation choices and offers more private, luxurious rooms. If you're looking for a romantic getaway at Atlantis, this may be a good choice for you.
All Atlantis Bahamas vacation packages offer accommodations that give you full access to the mesmerizing world of Atlantis in the Bahamas.
Atlantis in the Bahamas Amenities include:
Atlantis Bahamas vacation packages offer
the largest number of amenities I've ever seen in a single location
... It has so much to offer guests you might need more than a week to take it all in!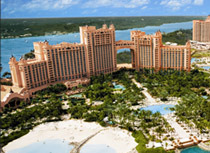 Water adventures and water park- The Atlantis water park offers typical water park treats such as river rides, huge water slides, pools and rock climbing. There are many water adventures to choose from on top of the diving and snorkeling such as shark adventures and snuba diving which ads a twist on traditional snorkeling. Aquaventure is free if you are a guest at the resort. You can check out all sorts of underwater life at the various lagoons located all throughout Atlantis.
21 Restaurants and 19 bars to choose from for your meals and drinks.
The Mandara Spa- This truly unique spa offers guests the chance to take all their worries away with a variety of pampering and massage techniques ranging from ancient Balinese healing touches to traditional European therapies. Many people love that the spa uses natural elements found only in the Bahamas to do some of the signature massages and facials. From teeth whitening to body treatments, you can be pampered just the way your body needs to be.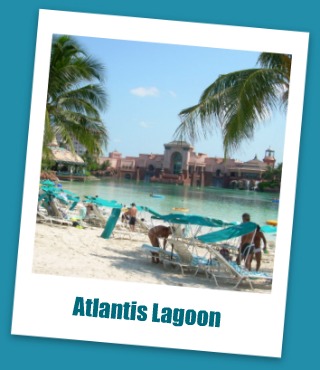 Dolphin Cay- Kids will love this place as they get to be up close and personal with the dolphins in the shallow water interaction. Parents love the deep water swim which allows them to go diving and snorkeling with the dolphins or they can zoom along side of the dolphins while they explore the underwater with a water scooter. The whole family will enjoy going behind the scenes with dolphin trainers where they get to feed and play with the Dolphins.
There are a number of activities to choose from so there is something for everyone in the family including fishing, tennis, shopping, pottery, rock climbing, theater shows, beaches and much more.
The Temple of the Sun Casino offers tables, slots, tournaments and events, high rollers and rated players and race and sports book.
Atlantis Resort Bahamas Reviews
Travelers loved:
Great food

places around the pool.

Awesome water rides

at the water park.

Johnny Rockets

is fantastic! Great entertainment and reasonably priced food.
If you catch something on your fishing adventure you can take it to

Murray's Deli

and they will prepare it for you. The chef comes right to the table to see how you want it prepared and then comes back with it cooked several ways for you to enjoy.

Dolphin Encounters

at the Blue Lagoon Island is top notch!
The

amenities

are amazing!

The staff

is terrific to the guests. They will go out of their way to spoil you.
The

water park

is included for free for all guests.

Kids stay free

.
You can view your

bill right on the tv

in your room so you know how much you have spent.
Travelers disliked:
Food was on the

expensive

side.
While the amenities are amazing the

luxury feeling of a resort is just not there

The

internet is only free for 15 minutes

.

Not many amenities are included

. You have to pay for everything you do except for the water park.
The resort allows

passengers from the cruise ships to use the facilities

at the resort so it can get quiet packed if there are 4 cruise ships in port. IT doesn't leave much room for guests of the resort to use the amenities.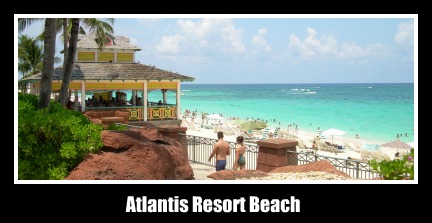 To read more detailed reviews check out these TripAdvisor pages:
Atlantis Resort Bahamas Travel Tips:
There is a

liquor store

within walking distance of the hotel.
When you go to Aquadventure eat at

Shark Bites

and get the

refillable drink

cup to save money.
Rides you must go on at Aquaadventure:

The Current and the Dig

.
Try the

fish fry

at the Twin Brothers restaurant.
If you're just want to visit Atlantis Resort Bahamas for the day check out one of the many Atlantis Bahamas cruises that will allow you (for an extra fee) to take in all of Atlantis' amenities.
Atlantis Bahamas Vacation Packages Recommendation: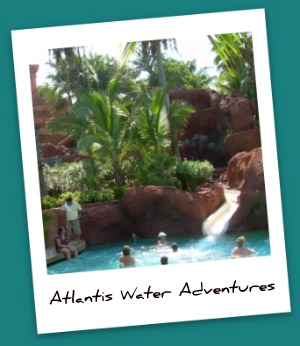 If you are looking for a relaxing vacation, Atlantis Bahamas may not be the vacation for you! This is a great place if you are looking for plenty of action or a Bahamas family vacation since there's tons do for the whole family.
While some people prefer a Bahamas all inclusive resort, this one has so much to offer it could be a good alternative if you're willing to pay a little extra. It is a great place no matter if you are looking for a fun getaway for two or you are vacationing with the entire family.
If you are looking for a more private romantic setting then this is not the place for you - for a more romantic tropical vacation check out the Breezes Bahamas all inclusive resort.
To make the most out of your trip, look into various Atlantis Bahamas vacation packages so you can bundle together some of the amenities which will make the trip much less expensive.
You can find out the latest deals for deals for Atlantis at Book It
- they have the lowest prices around and good service too!