Bavaro Princess Punta Cana
Find Your Best All Inclusive Punta Cana Resorts Quick!
Bavaro Princess Punta Cana is a 3 1/2 star, ($$) budget minded all inclusive Punta Cana Resort. The Bavaro Princess All Suites Resort, Spa, & Casino is an option for Punta Cana all inclusive cheap vacation packages.
Bavaro Princess Punta Cana Amenities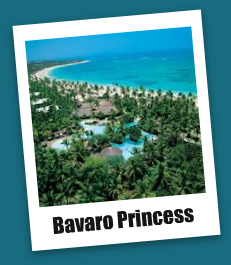 The Bavaro Princess All Inclusive Punta Cana Resort is a sprawling resort located on the sandy beaches of the Dominican Republic's
eastern coast
. It's a large Dominican Republic Beach Resort (it takes 20 minutes to walk from one end to the other) and features over
800 rooms and suites
.
The
nearest Punta Cana golf course is a mere 7 minutes away
and it's 25 minutes to the airport and 45 minutes to Higuey, the closest town.
The levels of accommodation range from basic junior suites to plush honeymoon suites. There are 590 bungalow suites and 82 junior suites with the choice of one king size or two twin beds. (The bungalow suites are located in villas, while the junior suites are located within the main building.)
The
40 all inclusive honeymoon suites
, also in the various villas, include the above amenities, plus a jetted tub, DVD player, fruit basket, and a complementary bottle of rum. The 96 platinum suites include a living room, dining room, and a 32-inch TV with DVD player. Both the honeymoon and platinum suites include king size beds.
Punta Cana Resort Map
Red marker
"B" denotes the Bavaro Princess
on this
Punta Cana resort map
. You can pan the map with the arrows or zoom the Punta Cana resort map with the "+" or "-" boxes. By zooming out with the "-" box you can see where the Bavaro Princess Punta Cana sits on the Dominican Republic coast line.
View Larger Map


Bavaro Princess Punta Cana All Inclusive Resorts Include:
Meals

,

snacks and

beverages

at 8 restaurants (including Italian, Asian, Japanese; two buffets; gourmet; steak; seafood); and 9 bars (including 2 poolside, 1 snack bar, 1 beach bar, and one at the disco).
2 pools

one with a swim-up bar
Activities

such as salsa and meringue lessons, archery, water polo, evening entertainment, etc.
Access to the

disco, gym, and sauna

.
Children's club

(for kids 5 to 12 years old).
For other options for Punta Cana all inclusive cheap vacation packages check out our reviews for the Occidental Grand Punta Cana , the Grand Oasis Punta Cana, the Barcelo Punta Cana or the Ocean Blue Punta Cana reviews.
Bavaro Princess Punta Cana Reviews
71% of more than 1500 Punta Cana reviewers would return to the Bavaro Princess All Inclusive Punta Cana
Resort
and recommended it for
great cheap Punta Cana vacations
.
Travelers loved:
The majority of vacationers thought the hotel was very

good value

for how much they paid.
The

Platinum upgrade

won rave reviews as having renovated rooms, being close to the beach, having private butler service, very comfortable beds, free internet, dinner reservations by phone, a reserved palapa on the beach, express check-in, larger rooms, and free room service.
The

tram

to get around this huge resort.
Quite a few Punta Cana reviews commented that the Punta Cana beach was one of the best beaches in the Caribbean!
The food was enjoyed by most guests and the buffet had a huge selection.
El Gaucho beach restaurant for hot dogs, burgers and chips right on the beach.
Travelers disliked:
Many guests booked this Dominican Republic hotel under the impression that it was a five star hotel and went on their holidays expecting a five star not a

3 1/2 star

resort. Some of the negative reviews were a result of these expectations.
That

outside vendors

harassed guests, even around the hotel pool.
Rooms could use a

renovation

.
Very hard beds

, except with the platinum upgrade.
As with many Punta Cana hotels some of the staff spoke

primarily Spanish

.
Bavaro Princess Punta Cana Tips
If at all possible, try to get a hotel room that has been part of the recent renovations - travelers who were in the

renovated rooms

gave much better reviews than other guests.
Many travellers felt upgrading to the

platinum suite

was definitely worth the price. It landed them closer to the beach, had a private beach, included free internet access and had many other perks (mentioned above).
Men are required to wear

long pants

for dinner in the restaurants so plan ahead when you're packing.
The best Punta Cana things to do include: Segway tour, zip lining, snorkeling, the excursion to Saona Island, swimming with the sharks and sting-rays.
Bring an

insulated travel mug

for your drinks.
The

trams

don't run frequently but if you walk along the tram path and flag them down they will stop for you.
If you booked through Apple Vacations or another tour company it may be worth going to their

welcome meeting

(even though I usually skip them!) because they reserve you three a la carte dinners without having to stand in line for a reservation.
If you are making

dinner reservations

go first thing in the morning to avoid disappointment
Recommendation:
The Bavaro Princess Punta Cana is
recommended for groups expecting good value for the price they paid
(especially if you're able to land in a renovated room)
for this cheap Dominican Republic all inclusive.
If you're looking for the top recommended all inclusive Punta Cana hotels check out our "Top Ten Punta Cana All Inclusive Resorts listing.
See our Cheap All Inclusive Vacations page for more inexpensive holiday ideas.