Sandals Resorts Jamaica
Helping You Choose the Best Couples Only All Inclusive Resorts!

Sandals Resorts Jamaica summary page 2. Keep reading for reviews of Sandals Montego Bay, Sandals Royal Caribbean Jamaica, Sandals Grande Ocho Rios, and Sandals Royal Plantation Jamaica! Also see page 1 - Sandals Jamaica here, with an overview of Sandals resorts and reviews of Sandals Negril, Sandals Carlyle Inn, and Sandals Whitehouse.
To find the best deals on Sandal Jamaica resorts check out the Sandals website to save up to 65% and get free nights
!





Sandals Montego Bay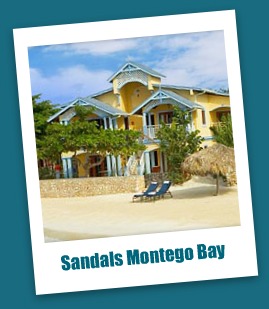 The four star Sandals Montego Bay is well located for strolling along Gloucester Road and enjoying Montego Bay's colonial past with its quaint gingerbread-style architecture and pastel colors.

This was the first ever Sandals Resorts Jamaica, designed by master-architect Edward Durell Stone and continuing its tradition, offering a romantic hideaway.

Overall it had an 84% recommendation rate from former guests including many repeat visitors which gets my vote for trying out this resort.

Many Jamaica reviews said "the food was great and the bars poured generously!"

The only complaint was the occasional noisy take-off and landing of aircraft at the airport nearby. Click here to read more detailed reviews of Sandals Montego Bay.

To Get 2 nights free plus save up to 60% and a $100 spa credit
I recommend booking with Sandals directly at this link.



Sandals Royal Caribbean Resort & Offshore Island
Offering something a little different from other Sandals Resorts Jamaica, this resort offers a British colonial estate along with an
exotic offshore island paradise
.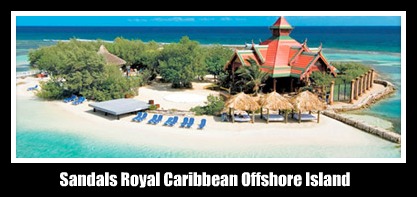 Book one of the swim-up suites for private poolside lounging from your own private patio which is shielded from prying eyes by the Plantation-style doors.

Guests gave the five star Sandals Royal Caribbean Jamaica resort a big thumbs-up with an 84% recommendation and particularly liked the six international restaurants (including the island's Thai restaurant), the five bars and the British pub. I haven't stayed at this one but I really want to do a romantic trip here when we want to do nothing else but lay on the beach and be pampered!
To get 2 nights free plus save up to 65% and a $250 spa credit at Sandals Royal Caribbean. Click Here!
Sandals Grande Ocho Rios Beach & Villa Resort
Earning 87% approval from happy guests and a top five star rating for luxury and amenities, the Resort offers mountains and beach views. You can read detailed reviews and see photos of Sandals Grande Ocho Rios Beach and Villa here.

It has one of Jamaica's best golf courses with complimentary green fees and modest caddy fees. If he wan't to golf and she wants to hit the spa, this resort could be just the right pick for you!

Accommodation can be enjoyed right on the beach, or further inland at the secluded Ciboney hillside villas. Tropical gardens, a luxury spa and excellent dining and entertainment, which come as standard at these couples only all inclusive resorts, can be found here aplenty.
For the best deals I recommend the Sandals sight direct - right now you can save up to 65% plus get 1 night free and a $250 spa credit
Sandals Royal Plantation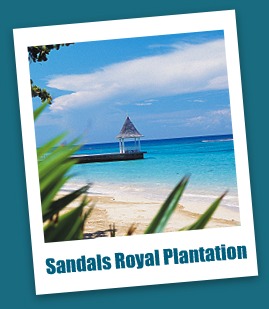 Sandals Royal Plantation Jamaica is the company's first luxury boutique resort and is recommended by 92% of travelers although many gave it their approval before it became part of the Sandals Jamaica family in October 2010.
With five star standards and butler service for everyone, guests found little to complain about other than the steps down to the beach.
The food was described as fabulous. Beverages and most activities were part of the service as at all the Sandals Jamaica couples only all inclusive resorts. For golfers the proximity to the Sandals Jamaica Golf Club is a big plus.
You can read more reviews of the Royal Plantation at Tripadvisor. With such a great approval rating for this luxury hotel, I'd recommend checking out the Royal Plantation if you're looking for a smaller more intimate vacation.
For the best prices I recommend booking directly with Sandals for savings up to 65% plus one night free
!
---
Also
see page 1 of our Sandals Jamaica summary here
, with an overview of Sandals resorts and reviews of Sandals Negril, Sandals Carlyle Inn, and Sandals Whitehouse.
Feel Sandals Resorts Jamaica arent' for you, or just want to check out
more resort options
before you choose your best Jamaican vacation packages?
Please check out our
Jamaica Vacation Pakcages
page for more options.
---