All Inclusive Family Vacations Mexico
Best Mayan Riviera Resorts for Your Mexican Family Vacation!
Find the best all inclusive family vacations in Mexico right here! We've searched the Mayan Riviera for the perfect family friendly resorts and activities.

A Mayan Riviera family all inclusive offers lots of options for kids activities from toddlers to teens both in and out of the resort. There are resorts with lazy rivers, kids clubs, teen dance spots, and of course every watersport under the sun.

Choosing All Inclusive Family Resorts in Mexico:
When you're choosing your best all inclusive family vacations in Mexico the most important thing to consider is the age of your kids - as you know what entertains a young child most certainly won't be all that interesting to a teen!
We've got three resort recommendations for all inclusive family vacations in Mexico:
Hotel Marina El Cid Resort & Spa - a cheaper resort great for kids/teens 6-18;
Iberostar Paraiso Maya - reasonably priced, great for kids 6 to 14; and
Azul Beach Hotel - deluxe resort specializing in children 5 and under.
Hotel Marina El Cid Spa & Beach Resort
89% of travelers would recommend the Mayan Riviera Hotel Marina El Cid to families traveling with kids 7 or 8 years old and older. This resort is a great option for a cheap all inclusive family vacation to Mexico.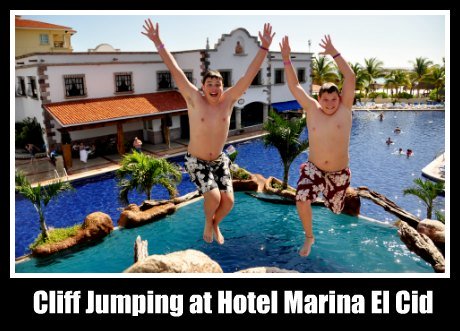 Photo courtesy of Kelly & Family - Vancouver, Canada
This Mayan Riviera all inclusive resort has fairly decent waves especially in the winter months - great for older kids to enjoy but perhaps not the best for young children if you'd like to swim in the ocean right at the resort.
Kid Friendly Amenities include:
A kid favorite "cliff" for jumping into the pool
Huge pool with

a large slide
Giant chess, ping pong tables, poolside basketball, tennis, pottery painting, archery, and pool activities
Beach activities: kayaks, soccer, volleyball, sailboats, boogie boarding
Kids club for ages 10 and under that the kids actually loved!
Family orientated nightly entertainment
One bedroom suites at reasonable prices so the kids can have their own room
Hotel Marina El Cid Resort Recommendation: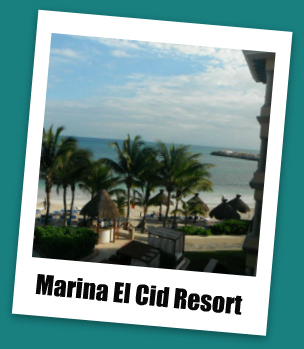 We recommend this resort for families with children ages 5 years and older if your not planning to do ocean swimming and for ages 10 and up (pending swimming ability) if you'd like to swim in the ocean. The beach is also fairly rocky.
I recommend this site for the best deals on this and other Mayan Riviera all inclusive vacation packages - click now to save 50% off the regular price
.
Iberostar Paraiso Maya
94%
of families staying at this resort would recommend it as one of the
best all inclusive family vacations in Mexico!
Kid Friendly Amenities include:
Ocean waves (especially in the winter months)
Archery, ping pong, air guns, bike tours, pools, volleyball, soccer, ceramics painting
Catamarans, kayaking, scuba clinic, snorkeling, windsurfing
Parasailing, wave runners, scuba diving (all at an extra charge).
Children's club for ages 4 to 12
Gardens with peacocks and flamingos
Family suites available for an extra charge of around $50 USD (you may have to contact the hotel directly for this option).
Check out
more reviews of Iberostar Paraiso Maya
Iberostar Paraiso Maya Recommendation
We recommend the Mayan Riviera's Iberostar Paraiso Maya for your all inclusive family vacations to Mexico if you have children between the ages of 2 and 16 or so and if you're looking for a 4 star family all inclusive at a reasonable price.
We recommend this site for finding the best deals on all inclusive family vacations to Mexico
.
Azul Beach Hotel
A 4 1/2 star all inclusive family resort - Azul Beach Mexico in the Mayan Riviera gets a 93% recommendation rate from past travelers for families with kids ages 0 through 12.
Azul Beach Mexico classes itself as a "gourmet" all inclusive since it has no buffet restaurants only a la carte. Azul is a smaller resort which many travelers liked.
Kid Friendly Amenities include:
Toy lending program through a collaboration with Fisher Price
Ocean waves (especially in the winter months) for older kids
Soccer, ping pong, volleyball
Boogie boarding, snorkeling
Swim up suites were a big hit with the slightly older kids
Kids club that's open from morning until 9 pm - kids raved about the activities and parents felt the workers were very reliable, trustworthy, and loved kids and babies.
Lifeguard on duty at the beach
There are lots of kids of all ages at this resort
Stroller and kids movies lending
All of the restaurants have booster seats, high chairs and kids menus
Azul Beach Recommendation
We recommend Azul Beach for families with kids of all ages if budget isn't a major consideration - and recommend it as
the best all inclusive family vacation for families with children under 5
. We do recommend upgrading to a suite if possible (this can normally be done at the front desk for cheaper if the hotel isn't booked full) as the regular rooms are quite small for a family.
If you are traveling with other families it might be worth inquiring about Villa Carola which is a 6 bedroom private house.
Not sure these resorts are right for you?
Find great discount prices on family vacations
.
---
Kid Friendly Activities in the Mayan Riviera
There are lots of options for activities and tours outside of your all inclusive resort in the Mayan Riviera that make the Mayan Riviera an excellent choice for all inclusive family vacations in Mexico. Many/most of the activities are best suited for children 7 or 8 years and older.
Of course there are many ruins to see Tulum is just a short drive from the resorts of the Mayan Riviera and offers some learning along with the fun for older kids.
Xel-Ha Ecological Park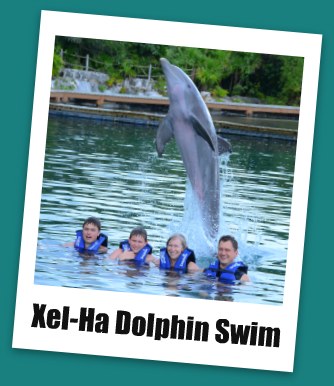 Xel-Ha Ecopark is about 10 minutes from Tulum and offers nature activities that are sure to delight the whole family. There is a swim with the dolphins program, scuba diving, a hammock island, snorkeling, a beginner dive with an oxygen helmet, cliff jumping, lazy river, and an ecological park with hiking trails.
The entry fee is around $70 if you can get there yourself about $120 with a bus package from your resort and includes all of your food and drinks.
Almost all of the reviews for this park are positive with the only negative comments being about the price of the photo and video packages with the dolphin swim.
Photo courtesy of Kelly & Family - Vancouver, Canada
Plan a whole day at this park for your Mexican all inclusive vacation!

Xcaret Eco Theme Park
A bit more of a drive (South of Cancun) than Xel-Ha but possibly worth the extra time is Xcaret Eco Theme Park. The activities in the park are educational as well as entertaining - a big plus as far as I'm concerned in the kid department! Xcaret has activities for kids from toddler to teenager:
smaller Mayan ruins,
butterfly house,
bat cave,
wildlife breeding farm,
aquarium,
snorkeling,
swimming,
beach time,
swimming with the dolphins,
a Mayan village,
various pavilions showcasing different Mayan activities,
underground lazy river (not suggested for very young children),
and quite a good show in the evening displaying Mexican history.

Xcaret gets very good reviews from travelers with most of the negative comments relating to the price of entry to the park (at just over $100 per person). Xcaret was one of my favorites though and I would especially recommend it for children over about 8 years old. Parents will also quite enjoy the whole nature park. Don't miss the underground river - a little bit of a shock to get into (due to it being fairly cold) but well worth it!
Xplor Adventure Park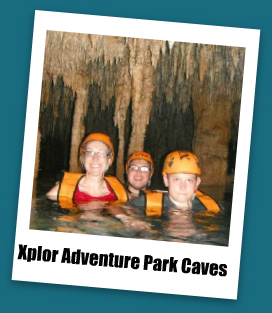 A huge adventure park with activities for adults and kids 6 years and older (as per park rules) although I'd recommend 8 years and up to be able to participate in all of the activities and hike from zip line to zip line.
13 zip lines, amphibious vehicles and an underground river with stalactites & stalagmites for swimming and rafting.
It can be an amazing experience for the whole family.
Almost every traveler who reviewed this park gave it rave reviews.
Photo courtesy of Kelly & Family - Vancouver, Canada
Highlights for visitors to Xplor Adventure Park included the zipline that ended by going through a waterfall and into a cave and the underground river swim ending in a waterfall pool.
Captain Quickie
The top rated tour in the Mayan Riviera is Captain Quickie tours. These are guided tours which can include snorkeling, ruins, zip lining, sea turtles, manta rays, sailing, and fishing. This is definitely a tour to consider if you're with a large group or family as they do private tours.
Travelers raved about the service and personal touches they received and how knowledgable the staff were in identifying sites and animals. The tours are great for all ages but most activities are geared for the six and older crowd.
All Inclusive Family Vacations in Mexico Recommendation:
The Riviera Maya is a great destination for your Mexican family vacation. We recommend three all inclusive family resorts in the Mayan Riviera:
Marina El Cid is a good choice for a cheap family vacation to Mexico for ages 5 and older. We recommend ages 10 and up if you're planning any ocean swimming.


Iberostar Paraiso Maya is recommended for kids 2 to 16 at a reasonable price. Singles and couples who are young-at-heart will also love this resort.


Azul Beach is perfect for your Mexican Family Vacation if you're looking for a deluxe family vacation with kids 0 -12. The Azul Beach is especially suited for kids ages 0 through 4 and there aren't many all inclusive resorts that cater to this age group.
More ideas for choosing your best all inclusive family vacations